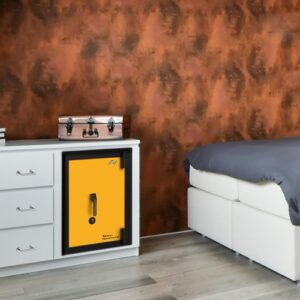 When it comes to protecting your valuable possessions, the Godrej Rhino Advanced
Digital Locker stands tall as a formidable choice. With its strong construction, advanced
security features, and premium functionalities, this locker is designed to provide
uncompromising security and peace of mind. In this blog post, we will delve into the key
features and benefits of the Godrej Rhino Advanced Digital Locker, highlighting why it is the
ultimate solution for safeguarding your valuables.
Unmatched Strength and Durability:
● The Godrej Rhino Advanced Digital Locker is built to withstand the toughest
challenges. With its heavy plate door and twin solid steel shooting bolts, it offers
exceptional strength and resistance against break-ins.
● This locker is crafted with durability in mind, ensuring that it stands the test of time
and provides long-lasting protection for your valuables.

Advanced Security Features:
● Equipped with advanced digital locking technology, the Godrej Rhino Advanced
Digital Locker offers a secure and convenient access mechanism. You can set your
own unique password for easy yet secure entry.
● The locker's non-volatile memory ensures that your password is securely stored,
even during power outages or battery replacements.
● Its automatic freeze feature activates after multiple incorrect password attempts,
further enhancing security.

Fire Resistance and Safety Features:
● The Godrej Rhino Advanced Digital Locker provides unparalleled protection not only
against theft but also against fire hazards. It offers a fire-resistance rating to keep
your valuables safe in the event of a fire.
● With internal shelves and lighting, this locker facilitates the efficient organization and
easy access to your belongings.
● The low battery indicator ensures that you are always aware of the locker's power
status, preventing any unexpected downtime.

Additional Features for Convenience:
● The Godrej Rhino Advanced Digital Locker is designed with user convenience in
mind. It includes features like a master password option, allowing for emergency
access in case of forgotten passwords.
● With its sleek and compact design, this locker can fit seamlessly into your home or
office space, maximizing both security and aesthetics.
Investing in the Godrej Rhino Advanced Digital Locker means investing in
uncompromising security, durability, and convenience. With its robust construction, advanced
security features, fire resistance, and additional functionalities, this locker provides the
ultimate protection for your valuable possessions. Experience peace of mind and safeguard
your valuables with the Godrej Locker—a symbol of trust and
reliability