In a time where safeguarding our most valuable assets has been more important, Safes and Lockers from the Godrej agency at calicut is known for trust and confidence. Godrej Agency has a long history and a solid reputation as a major player in the security solutions market. Godrej agency in Calicut provides a wide range of products and services to meet the needs of both businesses and homes. Today, we explore the world of Godrej Safes and Lockers, a brand known for its innovative design and steadfast protection.
1.Godrej Safes and Lockers

Godrej offers a large selection of home lockers if you're searching for a safe and secure location to keep your belongings. You can pick the ideal
Godrej home locker
to suit your needs and budget because they come in a range of sizes and finishes.
Godrej Presidio
:Security and elegance meet in the Godrej Presidio Locker. Its elegant appearance blends in perfectly with your interior decor, and its double-walled structure and secondary re-locking mechanism provide unparalleled security and durability. This safe's movable shelves make it easier to use and an attractive yet secure addition to your house.
Godrej NX Pro Biometric
:Consider the Godrej NX Pro Biometric 25L Locker as your most advanced security option. With the use of the latest innovations, this creative locker provides individualised security unlike anything else. Your special fingerprint powers its sophisticated biometric locking system, which ensures the highest level of security for your priceless possessions..
Defender Aurum NX Door
:The need for increased protection is clear in India's booming jewellery market, where asset values have risen rapidly as a result of the nation's economic expansion. The Godrej Defender Aurum Nx Door is the jeweller's best defence against evolving burglary tactics.
2.Godrej Office Products

In addition, Godrej Agency provides a large selection of office supplies, such as cash counters, safes, lockers, and more.
Godrej office products
are made to be used by companies of all sizes, from startups to multinational conglomerates.
Some of the most popular Godrej office products include:
Cash Counting Machine:You can count on Godrej's Fitness Sorter Currency Counter to prevent superior loss prevention. It improves the security of your business by instantly identifying fake notes and detecting damaged ones. It also expedites the procedure by rapidly sorting and counting different currency quantities, ensuring accuracy.
Secunex:
Learn about the innovative and elegant Secunex Nex Gen safe deposit lockers from Godrej. These champagne gold and sterling silver lockers offer an inbuilt locking hasp for individual protection, superior security, organisation with a treasure box, and convenience with built-in lighting. Ideal for lodging facilities, banks, and other financial organisations, your assets are our top priority.
Gold Testing Machine:
experience our gold testing equipment for the highest accuracy and durability, it is well-known for Gold Testing Equipment. Our top priority is guaranteeing the purity of the gold, and our modern equipment is skillfully crafted for accurate and practical evaluation.
3.
Godrej Home Locker

Godrej home lockers
are an excellent prevention against fire and theft of your possessions. You can pick the ideal
Godrej home locker
to suit your needs and budget because they come in a range of sizes and finishes.
Centiguard 1060 EL :
When it comes to protecting your important documents, the Godrej Centiguard 1060 EL Locker is a light of hope. Constructed to withstand severe fires, this amazing
Godrej home locke
r provides the highest level of security and dependability. It's the best option for safeguarding your home's paper documents.
Premium Coffe
r:The solid Godrej 6 Lever Lock on the Godrej Premium Coffer Locker is perfect for protecting valuables and cash, whether they are being used for personal or professional purposes. Its strong and small exterior not only provides excellent protection but also elevates any environment.
NX Pro Digital 25L
:The Godrej NX Pro Digital 25L Lockers are a flexible security option for both homes and businesses. With a distinctive Digi lock password that ranges from four to six digits, these lockers provide solid safety. Additionally, they improve security by immediately freezing after four incorrect tries and remembering your password even when the batteries are changed.
The following are a few advantages of utilising a Godrej lockers and storage solutions:
Security:
Godrej agency
comes with various
Godrej safes and lockers
with fire resistance ratings, and other security measures. They are constructed from premium materials.
Convenience:
Installing and using
Godrej office products
is simple. You can pick one that precisely fits in your home because they come in a range of sizes.
Comfort:
Have deeply relaxed and at ease knowing that your priceless belongings are securely locked up inside the guarding arms of a
Godrej home locker.
In summary Regarding safety, the Calicut Godrej  agency's Godrej Safes & Lockers provide a reliable barrier for your belongings. We provide homes and businesses with the security they require with our creative designs and steadfast protection. Godrej continues to be a sign of confidence and dependability in a day where security is crucial, guaranteeing that your priceless possessions are protected in the face of changing obstacles.
FAQ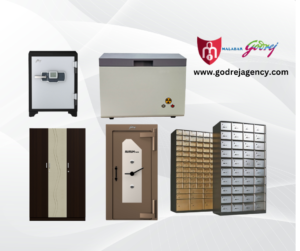 1.Can I get customised solutions for my security needs?
obiviously, the godrej agency can collaborate with you to create specialized security solutions depending on your unique needs when you choose safes and lockers at calicut.
Could you suggest the finest

Godrej safe and locker

based on my needs specifically?
Yes, our experienced staff can evaluate your demands and suggest the best Godrej safe or locker to satisfy your security requirements when you contact us about safes and lockers at calicut.

What services does the

calicut

Godrej agency provide?
To satisfy your security needs, the Godrej agency in calicut specializes in offering an extensive selection of premium Godrej safes, lockers and storages