Introduction
In the fast-paced world of today, organization and safety are crucial. Godrej agency can help with that because it provides a variety of items that can improve your home's security and make your life easier.godrej agencies excellent products: the Godrej home lockers, cash counting machines, gold testing machines, Godrej wardrobe, and Godrej almirah etc.
Godrej Home  Lockers:
 The Best Security Partner
The Godrej home lockers offer the best level of protection for your belongings, which is precisely what they should. These safe storage options are made to prevent unwanted access to your priceless belongings, valuables, and vital documents. Godrej home lockers provide a range of alternatives to suit your unique requirements, whether you're looking for a small safe for your home office or a larger locker for your valuables.
Godrej Wardrobe: A Combination of Style and Utility
It is more than simply a piece of furniture—it's a place where style and utility come together. Your clothes and accessories will have a chic and well-organized place to live in these wardrobes. Godrej wardrobes come in a choice of styles and finishes so you can show off your individuality while keeping your stuff organized. Select from our selection to improve the storage and design of your space.
Godrej Almirah: Your Stylish Storage Solution
When it comes to organizing your clothes and personal items, the Godrej almirah is the perfect solution. Combining style and functionality, these almirahs are a fashion statement in themselves. With options suitable for every room in your home, you can store your belongings in an organized, secure, and stylish manner. Experience the convenience of Godrej almirahs and elevate your home's decor.
Cash Counting machine: Simplify the work of counting cash.
Our cash counters are made to make your accounting procedures more efficient. They offer quick, accurate, and effective currency counting so you may concentrate on other everyday tasks or business-related activities. These devices are a dependable option for simple cash handling.
Gold testing machine:
Accuracy in Precious Metals
Godrej's Gold Testing Machines provide the highest level of precision and dependability for those involved in the precious metals sector. By helping to determine the purity of gold and other precious metals, these devices enable buyers and sellers to make well-informed judgments. For accurate gold testing and safe transactions, put your trust in Godrej agency.
FAQ
1: Can I get customized Almirahs and Wardrobes from Godrej in Palakkad? 
Godrej agencies in palakkad offers customization options for almirahs and wardrobes. We understand the importance of matching your furniture to your decor, and our expert team can help you tailor your choice to your style and space.
2: What services does Godrej agency in Palakkad provide for Home Lockers?
We provide comprehensive services for maintaining and servicing home lockers. Our team is dedicated to ensuring the security and functionality of your lockers, offering regular maintenance and prompt servicing as needed to keep your belongings safe.
3: Can I receive personalized guidance for choosing the right Cash Counting Machine at Godrej in Palakkad?
Absolutely, at Godrej agency , our knowledgeable staff is here to provide you with personalized assistance. Whether you're looking for a cash counting machine, we can guide you in selecting the equipment that best suits your specific business requirements. Your satisfaction is our priority.
Conclusion
At Godrej agency, we recognise the value of both style and security. Our precision-crafted items include cash counting machines, gold testing machines, Godrej wardrobes, Godrej almirahs, and Godrej home lockers. we provide the ideal fusion of style, structure, and safety. With Godrej agency, improve the security of your house and make life easier. Select from our extensive selection of alternatives to fit your particular needs and style.Make your house a more secure, well-organized, and fashionable place to live by experiencing Godrej now.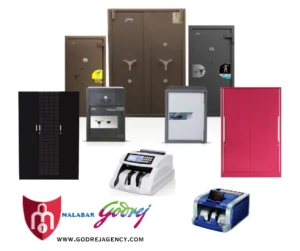 For More details contact